Please go to read more, my brothers and sisters…
In the name of Allah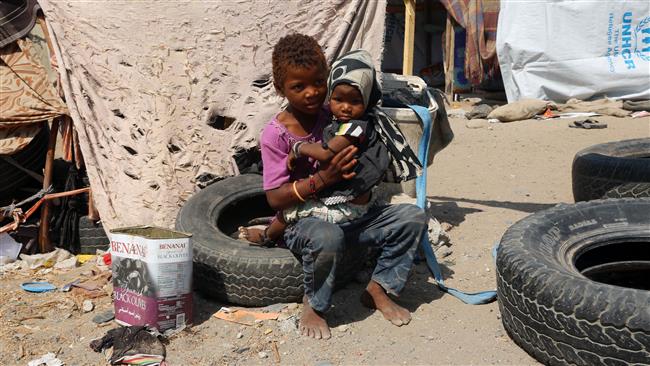 The World Food Program says Saudi Arabia's continued blockade threatens the lives of millions in Yemen as aid deliveries cannot get to the needy.
Stephen Anderson, the head of the World Food Program, on Monday described as "heartbreaking" the fact that millions in Yemen depend on sustained access to humanitarian assistance.
Of a population of 26 million, some 17 million Yemenis do not know where their next meal is coming from and seven million are totally dependent on food aid.
On November 6, Saudi Arabia announced that it was shutting down Yemen's air, sea, and land borders, after Yemeni fighters targeted an international airport near the Saudi capital with a cruise missile.
The United Nations made a plea for the Saudi war machine to remove its blockade, warning that without aid shipments "untold thousands of innocent victims, among them many children, will die" and that its partial lifting was not enough.
Anderson said from Sana'a that humanitarian flights to the northern Houthi-held part of Yemen have been grounded amid the siege.
Saudi Arabia has been incessantly pounding Yemen since March 2015 in an attempt to crush the Houthi Ansarullah movement and reinstate former President Abd Rabbuh Mansur Hadi, who is a staunch ally of the Riyadh regime.
More than 12,000 people have been killed since the onset of the campaign. Much of the Arabian Peninsula country's infrastructure, including hospitals, schools and factories, has been reduced to rubble due to the war.
The International Committee of the Red Cross (ICRC) said on Friday that the Saudi blockade had left three cities in Yemen running out of clean water due to a halt in the import of fuel needed for pumping and sanitation, warning of "a renewed cholera outbreak."
Some 2,100 people have died of cholera since April as hospitals struggle to secure basic supplies across the country. The epidemic had been on the wane for weeks in Yemen, although new cases are still running at around 2,600 per day.
source:
http://www.islamicinvitationturkey.com/